The Flag of Guárico state Is Official Since November 24, 1995 And Modified in January 29, 2014
It was designed by the plastic artist Ely Alexi Romero Álvarez and in the minutes dated February 25, 1994 signed by the Regional Executive, according to Decree No. 138 of November 24, 1995. but in the original version it had 14 stars.
Blue: Represents the sky always in love with the prodigal land furrowed by Rivers, Lagoons, Dams, Canyons and Morichales.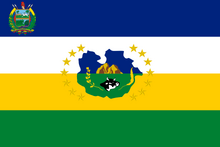 White: Represents the universal color that represents the purity of the soul, open to hospitality and to lend a helping hand.
Gold Stars: Represents the Municipalities of Guárico State, Distributed evenly in a "U" shape around the silhouette of the map, covering only the second and third stripes of the flag.
Yellow: Represents the color of the sun and represents clemency, kindness, justice and agricultural wealth of the Guárico state.
Guárico state Map: Within the silhouette of the map and located in its upper part, there is the image of the Aristides Rojas National Monument, known for its syncretism as Los Morros de San Juan. At the bottom of the map silhouette is a head of beef representing the cattle wealth of the Guárico state. On both sides of the head of the Bovine and centered on the silhouette of the map, a spike of rice is located, on the side corresponding to the pole and on the opposite side aligned to it is located a spike of sorghum. The ear of rice and sorghum contain thirty-nine (39) groups of grains each, representing the parishes of the Guárico state.
Green: Represents the color of geography with the arrival of winter and the Hope, honor, courtesy, abundance, friendship and respect.
Community content is available under
CC-BY-SA
unless otherwise noted.