The flag of the state of Hawaii (Hawaiian: Ka Hae Hawaiʻi) is the official standard symbolizing Hawaii as a U.S. state. The same flag had also previously been used by the Kingdom, Protectorate, Republic, and Territory of Hawaii. It is the only U.S. state flag to feature the Union Flag of the United Kingdom, a remnant of the period in Hawaiian history when it was associated with the British Empire.
The canton of the flag of Hawaii contains the Union Flag of the United Kingdom, prominent over the top quarter closest to the flag mast. The field of the flag is composed of eight horizontal stripes, symbolizing the eight major islands (Hawaiʻi, Oʻahu, Kauaʻi, Kahoʻolawe, Lānaʻi, Maui, Molokaʻi and Niʻihau). A ninth stripe was once included, representing the island of Nihoa. Other versions of the flag have only seven stripes, probably representing the islands with the exception of Kahoʻolawe or Niʻihau. The color of the stripes, from the top down, follows the sequence: white, red, blue, white, red, blue, white, red. The colors were standardized in 1843, although other combinations have been seen and are occasionally still used.
The flag used by the governor of Hawaii is a red and blue bi-color. In the middle of the eight white stars appears the name of the state in all capital letters. During the time Hawaii was a United States territory, the letters in the middle of the flag were "TH", which stood for "Territory of Hawaii".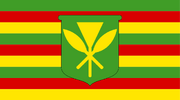 The Kanaka Maoli flag consists of nine red, green and yellow horizontal stripes, with in its center a kahili and two crossed paddles on a green shield. It is claimed to have been the flag of the Kingdom of Hawaii before the adoption of the current flag, though its authenticity is disputed.
Proposals for a New Flag of Hawaii
[
edit
|
edit source
]
Community content is available under
CC-BY-SA
unless otherwise noted.