The flag of the state of Illinois consists of the seal of Illinois on a white background, with the word "Illinois" underneath the seal. The Great Seal of the State of Illinois is the official emblem of the state, and signifies the official nature of a document produced by the state of Illinois.
The current flag depicts the Great Seal of Illinois, which was originally designed in 1819 and emulated the Great Seal of the United States. In the eagle's beak there is a banner with the state motto, "State Sovereignty, National Union." The dates on the seal, 1818 and 1868, represent the year Illinois became a state and the year in which the Great Seal was redesigned by Sharon Tyndale. Although "State Sovereignty" comes first in the motto, Illinois was victorious in the American Civil War on the Union side, fighting against state sovereignty, so Tyndale placed "State" at the bottom and "Sovereignty" upside-down.
In 1918, Wallace Rice submitted a flag for Illinois's centennial celebration. Rice is best known for designing the iconic flag of Chicago. His centennial flag has 21 stars, representing Illinois's entry to the Union as the 21st state, on a white and blue triband.
Proposals for a new Flag of Illinois
[
edit
|
edit source
]
A number of proposed designs take elements from two local flags: the municipal flags of Chicago and Springfield. Both happened to be designed by men named Wallace in 1917.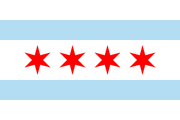 The Chicago flag by Wallace Rice is one of the most popular local flags in the country. Its three white areas represent the North, South, and West sides of the city, separated by the branches of the Chicago River. Wallace's original had two distinctively shaped, red six-pointed stars, which later grew to four. They represent four major events in Chicago history: the founding of Fort Dearborn in 1803, the Great Chicago Fire in 1871, the World Columbian Exposition in 1893, and the World's Fair of 1933.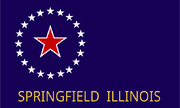 The Springfield flag was designed by S.T. Wallace. Its 21 stars commemorate Illinois's position as the 21st state in the Union. The large white star in the center represents Illinois itself, and the red star within it represents Springfield. The flag today also includes the name of the city, but this was not part of the original design and is not specified in the city's Code of Ordinances.
Community content is available under
CC-BY-SA
unless otherwise noted.