(Editing a gallery)

Line 25:
Line 25:
 

Iowa State Flag Proposal No 1 By Stephen Richard Barlow 05 OCT 2014 at 0758hrs cst.png|Iowa State Flag Proposal No. 1 By: Stephen Richard Barlow 05 OCT 2014 at 0758hrs cst

 

Iowa State Flag Proposal No 1 By Stephen Richard Barlow 05 OCT 2014 at 0758hrs cst.png|Iowa State Flag Proposal No. 1 By: Stephen Richard Barlow 05 OCT 2014 at 0758hrs cst

 

Iowa State Flag Proposal No 2 By Stephen Richard Barlow 05 OCT 2014 at 0838hrs cst.png|Iowa State Flag Proposal No. 2 By: Stephen Richard Barlow 05 OCT 2014 at 0838hrs cst

 

Iowa State Flag Proposal No 2 By Stephen Richard Barlow 05 OCT 2014 at 0838hrs cst.png|Iowa State Flag Proposal No. 2 By: Stephen Richard Barlow 05 OCT 2014 at 0838hrs cst

 
+

Iowa State Flag Proposal No 3 By Stephen Richard Barlow 05 OCT 2014 at 0841hrs cst.png|Iowa State Flag Proposal No. 3 Designed By: Stephen Richard Barlow 05 OCT 2014 0841hrs cst

 
+

Iowa State Flag Proposal No 4 By Stephen Richard Barlow 05 OCT 2014 at 0932hrs cst.png|Iowa State Flag Proposal No. 4 By: Stephen Richard Barlow 05 OCT 2014 at 0932hrs cst

 

</gallery>

 

</gallery>

 

[[Category:USA states]]

 

[[Category:USA states]]
---
Revision as of 12:01, 8 October 2014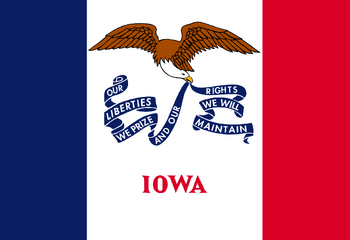 The flag of the state of Iowa consists of three vertical stripes of blue, white, and red, reflecting Iowa's history as part of the French French Louisiana Territory. (Because of the wider middle stripe and symmetric design, the design is sometimes classified as a "Canadian pale".) The image of a bald eagle with a long ribbon reading "Our liberties we prize and our rights we will maintain", taken from the Seal of Iowa, is centered in the middle white stripe. The word "Iowa" is placed directly below it in red, serifed and in upper case.
The flag was adopted in 1921; it was first approved in May 1917, by the Iowa State Council for Defense. It was designed in 1917, by Knoxville, Iowa, resident Mrs. Dixie Cornell Gebhardt, of the Daughters of the American Revolution of Iowa.[1]
In 2001, a survey conducted by the North American Vexillological Association (NAVA) placed Iowa's flag 42nd in design quality out of the 72 Canadian provincial, U.S. state and U.S. territory flags ranked.[2]
Proposals for a New Flag of Iowa
Shown below are designs that have been proposed for a new flag of Iowa.
Community content is available under
CC-BY-SA
unless otherwise noted.