(Editing a gallery)

(15 intermediate revisions by one other user not shown)
Line 9:
Line 9:
 

}}

 

}}

 
 
−

The flag of the {{w|United States Virgin Islands}} (USVI) is a white field charged with a golden eagle bearing the shield from the {{w|Great Seal of the United States|U.S. Great Seal}}, and the territory's initials "V" and "I". Like the eagle on the Great Seal, the eagle on the USVI flag holds an {{w|olive branch}} in its dexter talon and a bunch of arrows in its sinister talon; the number of arrows is reduced to three, representing the USVI's three main islands.

+

The flag of the {{w|United States Virgin Islands}} (USVI) is a white field charged with a golden eagle bearing the shield from the {{w|Great Seal of the United States|U.S. Great Seal}}, and the territory's initials "V" and "I". Like the eagle on the Great Seal, the eagle on the USVI flag holds an {{w|olive branch}} in its dexter talon and a bunch of arrows in its sinister talon; the number of arrows is reduced to three, representing the USVI's three main islands.

 
 
−

{{stub}}

+

{{}}

 
+
 
+

==Flag proposals==

 
+

<gallery bordercolor="#000">

 
+

US-VI flag proposal Big Red.png|USVI flag proposal by BigRed618

 
+

US-VI flag proposal Sam McKittrick 1.png|USVI flag proposal 1 by Samuel McKittrick

 
+

US-VI flag proposal Sam McKittrick 2.png|USVI flag proposal 2 by Samuel McKittrick

 
+

US-VI flag proposal Leonardo Piccioni 1.png|USVI flag proposal 1 by Leonardo Piccioni de Almeida

 
+

US-VI flag proposal Leonardo Piccioni 2.png|USVI flag proposal 2 by Leonardo Piccioni de Almeida

 
+

USVI Flag Proposal.png|USVI Flag Proposal 1 by Qsdensley

 
+

USVI Flag Proposal 2.png|USVI Flag Proposal 2 by Qsdensley

 
+

USVI Flag Proposal 3.png|USVI Flag Proposal 3 by Qsdensley

 
+

US virgin islands.png|Giant V meets the Danish flag with 3 hollow stars for the three islands. Design by Rotten Ali.

 
+

US Virgin Islands.png|Simplified Version by Sage .A. Rollins

 
+

USVI-new.png|Three stars and waves for three main US Virgin Islands; colors taken from current USVI flag

 
+

</gallery>

 
+
 
+

==Symbolism==

 
+

===Danish cross===

 
+

[[File:Flag of Denmark.png|thumb|right|150px|Flag of Denmark]]

 
+

For hundreds of years, the US Virgin Islands were {{w|Danish West Indies|colonies of Denmark}}, which gives them a history unique in the Caribbean. After several unsuccessful attempts, Denmark established its first settlement on St. Thomas under the Danish West India Company. The company colonized St. John in 1718 and purchased St. Croix from France in 1733. The islands remained under Danish rule until the United States bought them in 1917. Danish voters (but not the islanders) had to approve the sale in {{w|Danish West Indian Islands sale referendum, 1916|a referendum}}. The islands have always been culturally English speaking, but this historical connection to Denmark is commemorated in the flag designs that include or allude to the {{w|Flag of Denmark|Danish flag}}.

 
+
 
+

===Three stars===

 
+

[[File:Virgin_Islands-CIA_WFB_Map.png|thumb|right|200px|Map of the U.S. Virgin Islands]]

 
+

The three stars that appear on several flag designs represent the three main islands of the U.S. Virgin Islands: {{w|Saint Thomas, U.S. Virgin Islands|St. Thomas}}, {{w|Saint Croix, U.S. Virgin Islands|St. Croix}}, and {{w|Saint John, U.S. Virgin Islands|St. John}}.

 
+

[[Category:United States territory]]

 
+

[[Category:United States Virgin Islands]]

 
+

[[Category:Symbolism]]
---
Revision as of 14:15, 3 March 2020
The flag of the United States Virgin Islands (USVI) is a white field charged with a golden eagle bearing the shield from the U.S. Great Seal, and the territory's initials "V" and "I". Like the eagle on the Great Seal, the eagle on the USVI flag holds an olive branch in its dexter talon and a bunch of arrows in its sinister talon; the number of arrows is reduced from thirteen to three, representing the USVI's three main islands.
Flag proposals
Symbolism
Danish cross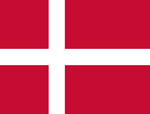 For hundreds of years, the US Virgin Islands were colonies of Denmark, which gives them a history unique in the Caribbean. After several unsuccessful attempts, Denmark established its first settlement on St. Thomas under the Danish West India Company. The company colonized St. John in 1718 and purchased St. Croix from France in 1733. The islands remained under Danish rule until the United States bought them in 1917. Danish voters (but not the islanders) had to approve the sale in a referendum. The islands have always been culturally English speaking, but this historical connection to Denmark is commemorated in the flag designs that include or allude to the Danish flag.
Three stars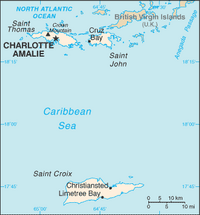 The three stars that appear on several flag designs represent the three main islands of the U.S. Virgin Islands: St. Thomas, St. Croix, and St. John.
Community content is available under
CC-BY-SA
unless otherwise noted.